As part of our commitment to excellence and innovation, the Center of Excellence in Co-Occurring Medicine now offers pharmacogenetic testing. The DNA collection process is easy and non-invasive; a simple cheek swab provides the genetic material for laboratory testing.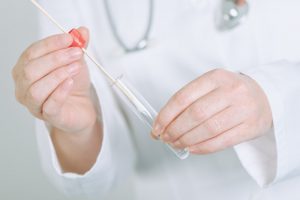 At the Center of Excellence, we use pharmacogenetic testing:
For patients who would like to determine the medications that their bodies would most likely tolerate well.
For patients who have frequently experienced side effects or adverse reactions to medications in the past and would like to find alternative medications.
For patients who feel they are too sensitive to medications or for those who feel they need higher than recommended doses of medications to attain relief from their symptoms. For these patients, pharmacogenetic testing can help determine the rate of metabolism for specific medications by examining the genetic variants that determine the individual functioning of key liver enzymes involved in processing these medications.
To rule out methylenetetrahydrofolate reductase (MTHFR) deficiency in patients who have been suffering from treatment-resistant depression, irritability, mood instability, anxiety, and/or poor concentration. MTHFR deficiency may lead to a decreased ability to produce certain neurotransmitters that can help alleviate these discomforts and help medications work properly.
The Center of Excellence offers pharmacogenetic testing through the MD Labs Rxight service. Based on each patient's unique genetic profile, test results indicate how a patient is likely to metabolize medications used to treat mental health concerns such as anxiety, depression, mood swings, poor concentration, psychosis, and dementia. Testing through Rxight also provides patients with a list of prescription and over-the-counter medications they are likely to best and least tolerate for a broad range of medical conditions, including high cholesterol, hypertension, diabetes, pain (including fibromyalgia), autoimmune diseases, clotting disorders, and seizure disorders. See the complete list of medications tested and conditions covered.
It's important to note that pharmacogenetic testing is simply an innovative tool to inform patient care; it does not replace the provider's role in determining the best treatment plan based on each individual's unique needs.
For more information about pharmacogenetic testing at the Center of Excellence, please call us at (503) 832-0945. To learn more about our team and services, visit our website.
Learn more about the gene panel for the Rxight test.
https://coementalhealth.com/wp-content/uploads/2018/03/COE-blog-featuredimage.jpg
121
121
Gabrielle Rosengarten
https://coementalhealth.com/wp-content/uploads/2017/02/COE_logo-wide.png
Gabrielle Rosengarten
2018-05-08 16:58:08
2020-04-23 22:44:06
Pharmacogenetic testing now available